Want to apply your skills to the rapidly growing field of cybersecurity?  
This is your chance to make your mark on our security agenda as our new graduate in one of the following positions: 
Security communications consultant
Project manager
Security operations analyst
Risk analyst
No matter where your competences lie, this is your chance to utilise them for a future within cybersecurity. As part of the TDC Group Graduate Programme, you will spend 1 year exploring and evolving your skills before building a career with us.
"You will join a dedicated team of highly experienced colleagues who are ready to support and guide you as you dive into security operations, innovation and research, risk management, business consulting as well as security policies and governance as part of one of the largest technology providers in Denmark," says Group CSO/SVP, Group Security, Ray Stanton.
Use your talents to build the defence against digital threats 
Starting mid-August 2019, you will become part of Group Security and help strengthen our systems for protection against cybercrime, identity theft and security breaches. Depending on your background and interests, we will find the perfect role for you to unfold your potential and contribute to our mission to protect the company, our employees and our customers.
No matter your position, you get to work cross-functionally and get training in support of certifications like SANS, CISSP and other industry and technology security certifications. Thus, you will learn about cybersecurity from different perspectives as you may be involved in:
Awareness and communications programmes
Project management related to IT, process improvement, product development, etc.
Big data analytics and risk assessments
Building defence networks
Designing and deploying technical defence solutions
Undertaking detailed log or forensic analysis
Supporting or undertaking ethical hacking on a wide range of technologies (depending on experience)
Advising colleagues across the TDC Group on risk and security aspects of new programmes
A programme built for you 
Our graduate programme is a unique 1-year experience designed to ignite your TDC career. You will spend 6 months at 2 different brands or group functions, giving you the chance to excel within your field of expertise in different business contexts. We evaluate and adjust the programme to match your interests and potential, and you will get a personal development plan to ensure that your talent accelerates throughout the programme.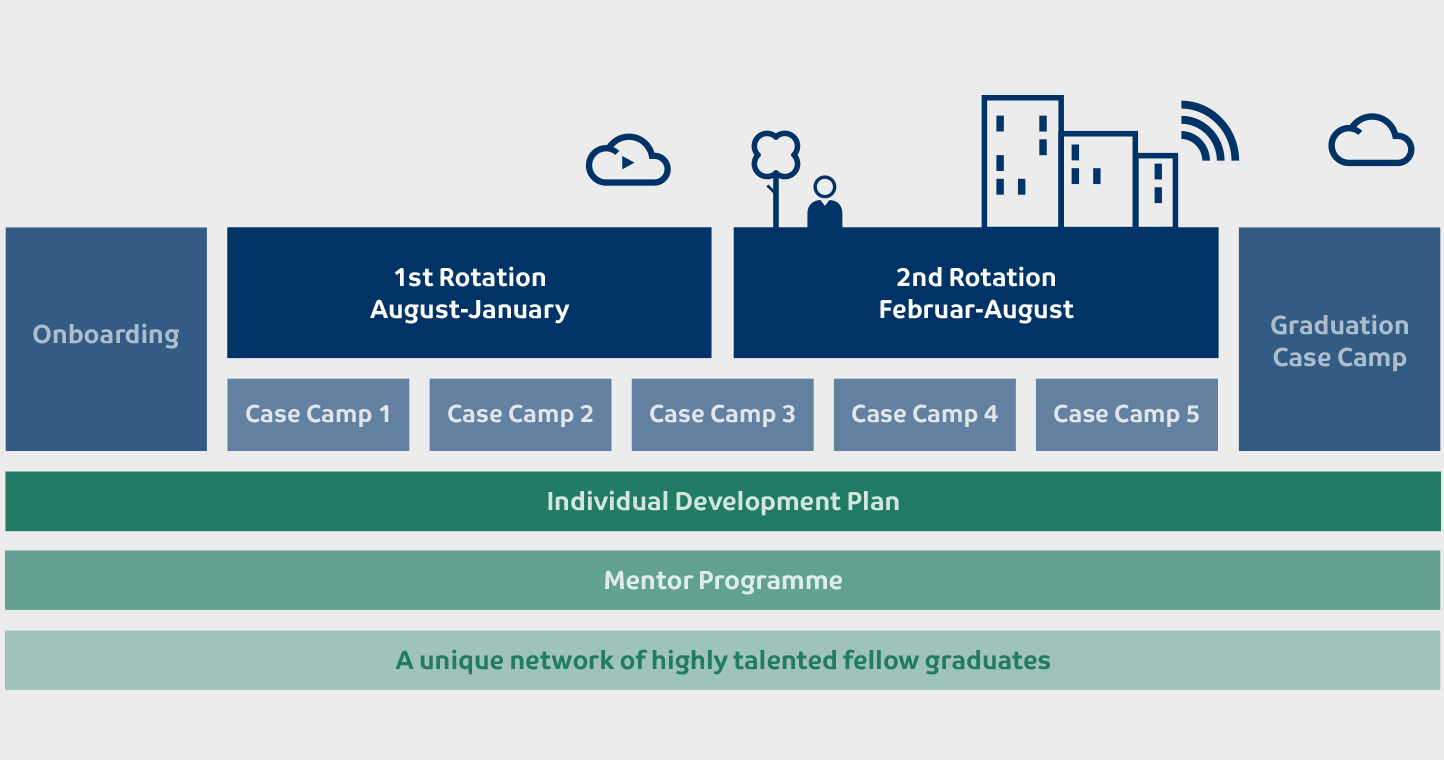 No matter which track you choose, you will work on high-priority projects and get real responsibility from day 1. You will be supported by mentors, sponsors from senior management and HR professionals and participate in social events and case camps with your fellow graduates from across the TDC Group.
Talented graduates ready for a future in cybersecurity 
You have completed a master's degree with outstanding results
You have a keen interest in the field of cybersecurity
You communicate well in English and have great collaboration skills
You have the experience/knowledge that makes you a great candidate for one or more of the open positions
If you can tick off the list above, please write a motivational letter that presents your background, personal and professional skills as well as your passion for the field of cybersecurit.
Want to connect? 
Join TDC Graduate Day in Copenhagen on 7 February or in Aarhus on 6 February 2019. Here, you will get to meet managers, HR partners and graduates from across the graduate tracks. They are ready to provide answers to all your questions about the TDC Group Graduate Programme 2019. Sign up for the event here. 
If you have questions about the programme, you are also welcome to contact Graduate Programme Manager Lykke Jeppesen on +45 2615 1637.
It's a match 
If you're ready to get started, please apply by uploading your CV, diploma and motivational letter. We invite candidates for interviews on a continuous basis, so please apply as soon as possible. The application deadline is on 3 March 2019.
About us 
To stay a digital front runner, TDC Group is in the middle of an exciting transformation. This means that we are creating two new companies; one including our YouSee, TDC Business, Telmore, Fullrate and Blockbuster brands and one that will focus on securing the best network by building and expanding our digital infrastructure.
We have big ambitions, and we believe that we can create the future of telecommunications because we have the best talents. We have 7000 employees and a proud history dating 136 years back. However, our mindset is anything but old-fashioned. We seek to innovate, challenge the status quo and put people first as we build a modern workplace of flexibility, passion and diversity.